30 Years of Nintendon't
30 Years ago, in 1988, SEGA released the Megadrive home console in Japan. In 1989, the machine was released in the USA under the name Sega Genesis. To convince players that the 16-bit Megadrive / Genesis was better than the then-ageing Nintendo NES console, Sega created ads with a brilliant headline: "Genesis does what Nintendon't". "30 Years of Nintendon't" is a tribute to the Megadrive / Genesis console and this wonderful marketing campaign.

As a Sega evangelist, you'll have to convince players to leave their NES console and avoid the SNES because "Genesis does what Nintendon't". How much market share can you earn thanks to your knowledge of the Megadrive / Genesis games library?
A new game for your Megadrive / Genesis
This is an actual game for the Sega Megadrive / Genesis home console. This online emulated version may present issues (lag, sound glitch, etc.) compared to the original console. If you enjoy the game, you can also:

Online emulation powered by the wonderful RetroArch (Genesis Plus GX core), and more specifically the HTML5 port done by ToadKing.


Download
Click download now to get access to the following files:
30YearsOfNintendont.bin [Megadrive / Genesis ROM - play with any emulator]
512 kB
Comments
Log in with itch.io to leave a comment.
Hey Dr. Ludos can you put Xbox Controller Support Thank-You

This trivia game is awesome to look Sega equivalents to Nintendo games because Genesis does what Nintendón't.
I like the game! Thanks for some joy for the MD birthday!
Best marketshare 37% tho...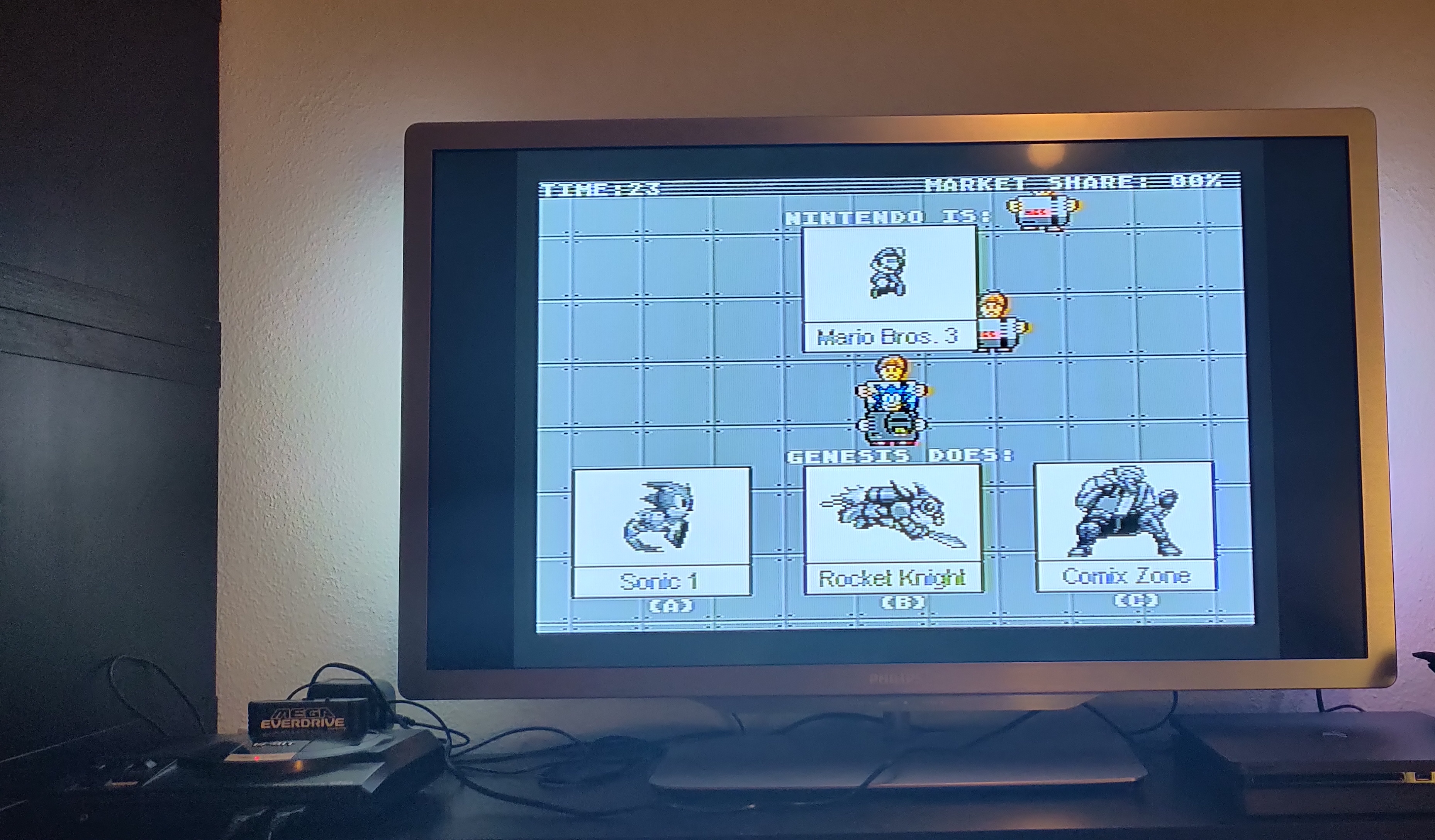 Woaw, thanks a lot for your support!
It's really motivating to keep doing game like this, thanks a lot! :)
I'm glad you enjoyed the game, and congrats on reaching 37%, that's quite a good score - but it's possible to go to 100% and make SEGA rule the world! ;)
Fun little way to give a bit of thought to what Sega-alternatives you might recommend your Nintendo-gaming friends. If there's one suggestion I could give for a possible update, it might be nice to add in a slightly "better" ending/game over screen for players that manage to reach 100% market share. (That said, my current record is 177%.)

Hi, thanks for your feedback!
Woaw, 177% that's impressive! I think that's the current record. Even after loads of thorough testing, my current personal record is 145% (and I know every answer by heart!).

Thanks for your suggestion though - to be honest, I wasn't expecting many players to reach the 100% threshold, or get over it!