Minigun Miner
A downloadable game for Windows, macOS, Linux, and Android
Minigun Miner is a unique digging game for the Atari 2600 (VCS) home console.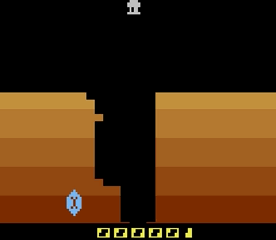 Using a minigun, dig holes to collect buried treasures (coins, diamonds, rubies, etc.). But be careful to never touch the ground, or you'll explode! Thankfully, each time you fire your minigun, the recoil will send you flying in the air.
How to Play
- Hold Fire to shoot to fly up and dig holes. Move the joystick while holding the fire button to aim in any direction.
- Move joystick Left and Right while Fire button is released to move left and right.

- There are items to collect (earn points), and enemies to avoid (loose game) :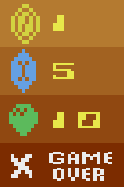 Looking for challenge?
My personal record is 42 points. Can you beat my high-score?
About
This game was created for the Retro Platform Jam #6 in about 3 weeks. It uses a 8K cart with SuperChip RAM to display a 32x32 destructible playfield. Programmed with the wonderful batari Basic and its in-depth documentation by Random Terrain.

Download
Click download now to get access to the following files:
minigunminer.bin [Atari 2600 ROM (NTSC version) - use any emulator or Flashcart]
8 kB
minigunminer_pal.bin [Atari 2600 ROM (PAL version) - use any emulator or Flashca
8 kB
minigunminer_secam.bin [Atari 2600 ROM (SECAM version) - use any emulator or Fla
8 kB