Sheep It Up! for Atari 2600
Sheep It Up! is an arcade game for the Atari 2600 (VCS) console, where a sheep has to climb up by hanging himself to flying velcro straps. The concept is simple, but the game rapidly gets quite challenging: how high can you climb without falling down?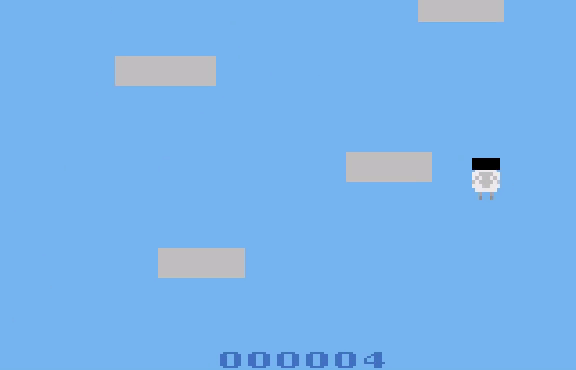 This is an actual Atari 2600 game, playable on the real console. Of course the game will also run in any Atari 2600 emulator program. To play it on a emulator, you can download the ROM file of the game here. If you want to play it on an actual Atari 2600, you can buy a Sheep It Up! cartridge for a mere 25$ (+shipping). The game cartridges are manufactured and sold by AtariAge, and come with an instruction booklet!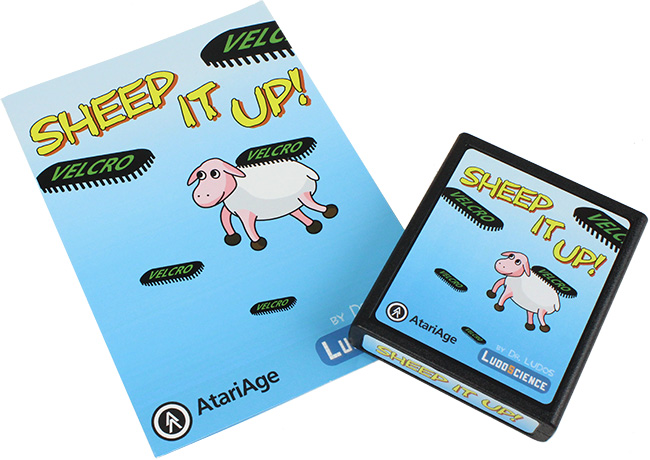 The game is available is 3 versions, to cater for the various Atari 2600 console versions: NTSC (60hz), PAL (50Hz) or SECAM (50hz with a 8-colors only palette).

Download
Click download now to get access to the following files:
ROM file - NTSC [Use with any Atari 2600 emulator]
4 kB
ROM file - PAL [Use with any Atari 2600 emulator]
4 kB
ROM file - SECAM [Use with any Atari 2600 emulator]
4 kB