Timeloop
A downloadable game for Windows, macOS, Linux, and Android
Timeloop is a fun game for the Atari LYNX handheld console where you play future soccer against your past self(s)!



You'll control a blue robot who have to push the green ball into the goal to score points. Move with D-Pad and press A or B button to Dash. Sounds simple? Well there is a catch: the whole game plays inside an endlessly repeating timeloop!

Every 6 seconds, the timeloop will reset the game. Your previous avatar will turn red, and it will move exactly like you did during the previous timeloop. You will play as another robot, always in blue. Up to 8 robots can play at the same time: your current avatar, and 7 of your previous incarnations. So, in this game you'll face the ultimate opponent: yourself!

There is an increasing "score limit" to reach on each timeloop to be able to continue the game. It starts easy, but quickly become challenging. By-the-way, my current best score is 40 points. Can you do better?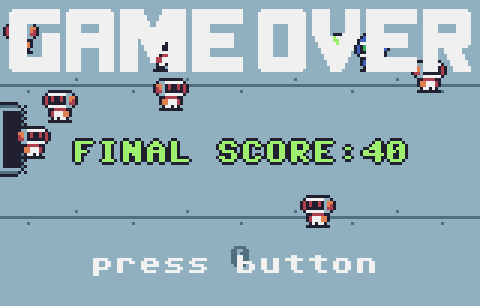 How to play
Dowload the game ROM files in .LNX (emulator) and .LYX (flashcart) formats. The fully commented source code is also provided as a separate download if you want to make new games for the Atari LYNX too!
This game is my entry to the Lynx 2020 Programming Competition hosted by AtariGamer.com

Download
Click download now to get access to the following files:
timeloop.lnx [ROM file for Atari LYNX emulators]
256 kB
timeloop.lyx [ROM file for Atari LYNX flashcarts]
256 kB
timeloop_sourcecode.zip
51 kB
Comments
Log in with itch.io to leave a comment.
When is the extended version coming? ;)
Good question! I honestly haven't found the time to start working on this game again, but I'll do it someday :)!